Drive Sustainable Improvements
When it comes to cost cutting in today's environment, quick wins are important. They build momentum for change. But while the gains from conventional consulting often quickly fade, Greybeard's unique approach builds a sustainable process that ensures your organization can move forward on its own, and continue to make improvement far into the future:
Immediate Results.

Even when revenues are dropping, our "fast plan" helps you obtain quick improvement in EBIT.
Sustainable Results.

By introducing business process improvements, instituting new best practices, and embedding new staff capabilities and skills, we build your organization's knowledge and its ability to achieve and sustain results for the long term.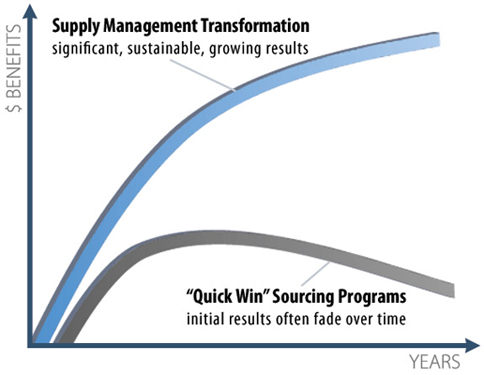 While gains from conventional consulting often fade,
Greybeard's unique approach generates sustainable improvement

In fact, Greybeard's experience benchmarks highlight the potential for double-digit percentage savings in many areas of cost.
Benchmarks:
Discover how much savings typical organizations can expect.