Leadership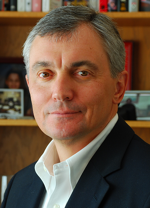 ROBERT A. RUDZKI
President, Greybeard Advisors LLC
Greybeard president Robert A. Rudzki is involved in all client engagements to help personally ensure our clients' success.
With more than 25 years of leadership experience across a variety of industries, Mr. Rudzki personally led supply chain transformation efforts at Fortune 500 companies that led to significant enhancements in corporate performance. Since forming Greybeard, he has been an advisor to some of the leading companies in major industry sectors.
Prior to founding Greybeard Advisors in 2004, Mr. Rudzki served as Senior Vice President, Materials Management and Chief Procurement Officer for Bayer Corporation. At Bayer, he led a nationally recognized transformation that generated significant improvements in costs and working capital, and was a finalist for Purchasing Magazine's "Medal of Excellence." Prior to Bayer, he was an executive at Bethlehem Steel Corporation, where he oversaw Bethlehem's global procurement and transportation areas — recognized as "top quartile" in a global benchmarking study conducted by A.T. Kearney and by Purchasing Magazine as a "Best Place to Work." In the course of his career, he held executive management positions in finance, accounting, procurement, logistics, business development and had P & L responsibility. 
Mr. Rudzki is co-author of the best-selling supply management book Straight to the Bottom Line,®  is co-author of the highly-endorsed sequel Next Level Supply Management Excellence, is co-author of the supply management technology book On Demand Supply Management, and is author of the leadership book Beat the Odds, endorsed by Lee Iacocca.
In addition to his role as president of Greybeard Advisors, Mr. Rudzki also serves on the board of directors of a privacy-software company, and is a member of the advisory boards of several companies.