Procurement and Supply Chain Transformation:
Our Process Methodology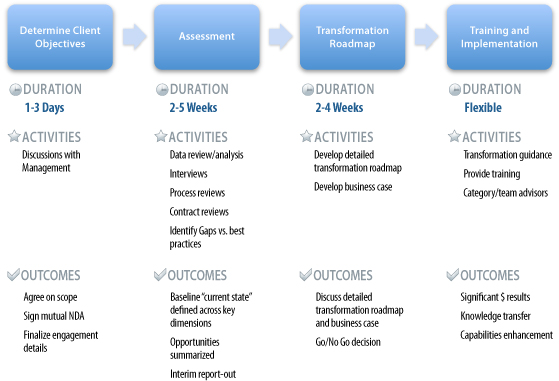 Our process begins with a management discussion aimed at discovering your organization's key challenges and objectives. Then we tailor our process and scope of work to take into account your unique needs.
For example, some clients may decide to undertake a comprehensive transformation of their sourcing culture, encompassing the full range of process activities shown above. Other clients, however, may have more focused priorities and enter the process at a later point — for example, engaging us to assist with training and mentoring, or to help implement a specific sourcing initiative.
Whether your challenges are large or small, strategic or tactical, Greybeard has the flexibility and experience to help you solve them.
To learn more about our Procurement Transformation services and deliverables, download our Greybeard Assessment & Roadmap PDF (2-page)