Quotes/Testimonials
Opportunity Assessment
"Greybeard Advisors guided our Strategic Non-Product Supply Chain team through a high level introspective review of untapped process and spend opportunities. With their help, that quickly led to identification of specific prioritized actions and results improvement. Greybeard's "hands on" Supply Chain experience was evident and key."

Michael Katzorke
Chief Supply Chain Officer (ret)
Smith's Aerospace
Procurement Transformation
"I've had both the pleasure, and the pain, of working with many different consulting firms in the past. From my perspective, Bob Rudzki and his team at Greybeard Advisors offer excellent value and indispensable expertise, creating credible bottom-line results, all without the drawbacks associated with traditional consulting firms.

"We used a formal RFP process to identify and select the right advisory firm to work with us on our sourcing transformation. We selected Greybeard Advisors because of their real-world experience leading change as former practitioners as well as many positive recommendations from their other clients.

"Throughout the different phases of the project, Greybeard Advisors' experience as leaders and practitioners was evident. It was a major reason for our high degree of success within Sourcing and with our internal clients."

Vice President, Strategic Sourcing
N. American process industry leader

"Bob Rudzki and his Greybeard Advisors team provided a comprehensive assessment of our current state, and clearly identified and communicated the benefits we could realize from pursuing a procurement transformation. They then developed a detailed plan and provided the training and support to implement it, including experienced strategic sourcing advisors. Their recommendations were valid and on-target, they worked well with our personnel at all levels, and we've been very pleased with the results."


John D. Smith
SVP, Store Development and Corporate Procurement
Collective Brands, Inc.
"In 2012, Greybeard Advisors conducted a comprehensive review of the University of Minnesota's "University Stores" operations, including University Stores' three operational functions of central logistics, materials management and e-Procurement portal support. The Greybeard team exceeded my expectations in terms of their knowledge of supply chain management/operations, the amount of ground they covered in a very short timeframe, the comprehensiveness of their final report and the overall value the University received for its investment. Greybeard personnel were practical in their approach, apt at assessing and understanding the University's culture and thorough and objective in their findings and recommendations. I would highly recommend Greybeard Advisors for colleges and universities looking to improve their supply chain management operations!"


Laurie Scheich
Associate Vice President, Auxiliary Services
University of Minnesota
"We have been utilizing the consulting services of Greybeard Advisors since early 2006. The primary objective of this relationship has been the transformation of our sourcing process into a robust system with a strong strategic sourcing foundation.

"Bob Rudzki and his team provided an initial assessment, a roadmap for our transformation, and strategic sourcing training. This was quickly followed up with the launch of Strategic Sourcing projects where Greybeard provided subject matter experts who were members of the sourcing teams and provided a "voice of experience." This experienced team member allowed the team the opportunity to reinforce the lessons learned from training, and provided subject matter expertise which improved the overall effectiveness of the team.

"Our transformation, while still underway, has been very successful to date. This success can be directly attributed to our decision to utilize Greybeard's services. I recommend Greybeard to any organization seeking to adopt a Strategic Sourcing methodology in their procurement process."

Head, Indirect Procurement
Global Medical Products Company
Strategic Sourcing & Negotiations Management Training
"Having had the opportunity to work with many of the largest consulting firms in the world that specialize in this area, I find the content and value of the Greybeard training to be superior given its emphasis on process, total cost and internal change management; as well as the overall experience level and quality of its instructors."

Jonathan K. Hanson
Former Chief Procurement Officer
Masonite International
"Provides a well-documented process to manage our suppliers and cost."

"Great job. Now have a great set of tools to use going forward."

"The 'Speaking with One Voice' videotape alone was worth the price of admission!"

"The session was great to calibrate our team on what Strategic Sourcing is, and to move our thought processes to a more strategic level."

"The strategy and negotiations information was great, and people were seriously engaged."

"Anecdotes really helped me to conceptualize and understand this material."

"Overall great job and time well spent."

"Extremely helpful. This training will pay big dividends for our company."

"Thanks for putting all the supply chain jargon into perspective and providing meaningful tools to deliver savings."

"Identified new tools and gave sample template to use. Got us all on the same page."

Feedback from course evaluation
(US and International classes)
Sourcing Advisors and Transformation Guidance
"What I like most about your approach is that you provide the right resources, as needed, to meet our objectives. You don't try to sell us a big consulting engagement. Your experienced advisors offer a light touch, are effective in our corporate culture, and have high impact."

Chief Procurement Officer
U.S.-based Manufacturer
"The approach taken by Greybeard Advisors during our Supply Chain transformation has been very refreshing. During my career, I've worked with consultants from pretty much every large US consulting firm. Mr. Rudzki and his team took the time to get to know our team and our business. They customized their support to meet our needs and our objectives. It was definitely not an "off the shelf" program that they forced on us. They have provided expertise, but more importantly, they have been coaches and teachers to our team."

Andrew Houser
Vice President, Supply Chain Management
Commercial Metals Company
"Greybeard Advisors have been my trusted advisors, providing the coaching and support that my team needed as we transformed our procurement organization. They brought subject matter knowledge, strategic sourcing experience and project management structure that enabled us to achieve results."

Vice President, Procurement Services
Fortune 1000 Retailer
"Greybeard Advisors were the perfect fit for us when we needed experienced sourcing leadership to get our indirect sourcing program off the ground. Shortly before spinning off from our parent company, Tyco, we needed to deliver quick results to help the company meet its pre-launch objectives. Greybeard was the logical choice for us since they brought to the table fully experienced and hands-on delivery people that needed no coaching and very little help delivering our short term objectives. While Bob's team helped deliver the quick wins, we were able to search for the full time staff we needed to sustain the gain."

Kevin Byrne
Global Director, Indirect Sourcing
Covidien
Workshops and Speaking Engagements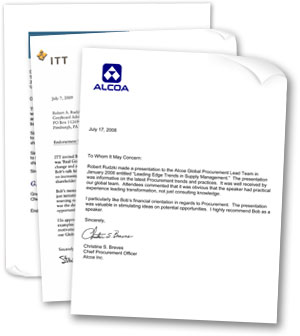 " … Bob's talk hit the mark… His approach and style were pragmatic, empirically validated through best practice examples, and well received by the ITT senior management team."

Stephen R. Loranger
Chairman, President and Chief Executive Officer
ITT Corporation
"… Attendees commented that it was obvious the speaker has practical experience leading transformation… I highly recommend Bob as a speaker."

Christine S. Breves
Chief Procurement Officer
Alcoa Inc.
"Bob is a truly outstanding executive, thinker, and speaker. We invited him to talk to the MAPI General Managers Council about specific things companies can do to make their procurement and SCM functions world-class, and he was superb. MAPI members have decades of experience and have heard numerous presentations, but Bob surpassed all expectations by making his talk content rich, results-focused, and filled with real-world examples. His comments were a perfect balance between thought provoking and actionable. His impressive background as a top executive at Bethlehem Steel and Bayer Corporation speaks for itself, and Bob is a wonderful resource for any company looking to improve their supply chain management organization."

Cam Mackey
Director, Marketing & General Managers Councils
MAPI
"Having attended hundreds of conferences and speeches over the years, I believe that I have developed a pretty good sense of what works and doesn't work. What doesn't work are rambling, theoretical presentations that fail to consider the audience's need. What does work — and what Bob Rudzki delivers — is a solid, real-world perspective that resonates with the particular audience he is addressing. Bob is relevant, dynamic, and always on point."

Francis J. Quinn
Editorial Director
Supply Chain Management Review